klassieke keuken
cuisine classique
Het Parkrestaurant biedt een klassieke en eerlijke burgerkeuken, bereid met eerstekeus ingredienten, door Chefkok Frédéric Bruggeman.
Le Parkrestaurant propose une cuisine simple et honnête. Ceci n´est pas un restaurant "gastronomique" mais un restaurant " de Tradition ".
The Parkrestaurant offers a choice of traditional preparations. We do not claim to be a "gastronomic" restaurant but a restaurant true, to the basics of cooking.
2 brothers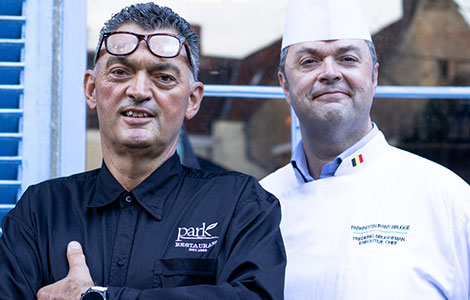 Het Parkrestaurant wordt sinds 1989 uitgebaat door de Axel en Frédéric Bruggeman.
Wat ooit begon als een winkel met tearoom, is uitgegroeid tot een populair restaurant in en buiten Brugge.

The Parkrestaurant is run since 1989, by two brothers, Axel and Frédéric Bruggeman. Initially a Tearoom with shop,
it has become a landmark for Traditional Dining in and around Bruges.
since 1989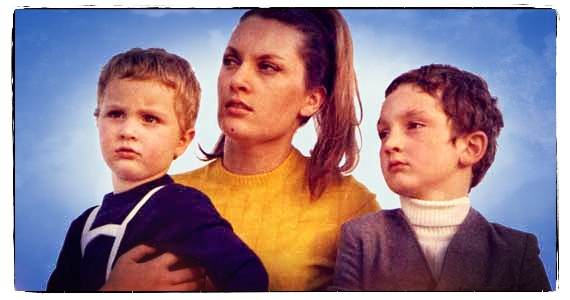 Frédéric en Axel with Mama Nicole Crousel back in 1970
The Parkrestaurant is housed in an 19th century townhouse dating back to 1849. High ceilings, impressive chandeliers and lots of character.

Le Parkrestaurant ouvrit ses portes en 1989 et est tenu par deux frères, Axel et Frédéric Bruggeman. Connu pour sa bonne table classique, il se situe dans une maison de Maître de 1849.

Reserve your table now:
info@parkrestaurant.be
or
0032 497 801 872
NEW YEAR'S EVE

For banqueting & groups:
info@parkrestaurant.be
or
0032 491 126 081


" classics "
JONGE TArbot filet in witte wijn saus
Young Tarbotfilet in white wine sauce, shrimps, samphire, potatoes soufflé.
Le filet de Turbotin sauce au Vin blanc, crevettes grises, salicornes, purée de pomees de terre
Gebakken Zalmfilet in lichte mosterdsaus
Baked Salmonfilet in a light Mustard sauce, served with mashed potatoe soufflé.
Le saumon poêlé, sauce Dijonnaise, pommes purée gratinés
Gebakken Zeetongetje
Sole Meunière.
Dover Sole
Ossenhaas in Rode wijnsaus
Belgian Beeffilet in red wine sauce, cauliflowercream, vegetables.
Le Filet pur Blue Blanc Belge, sauce bordelaise, Crème de Choufleur, légumes
cocktail van handgepelde grijze garnalen
Cocktail op handpeeled northseashrimps
Le cocktail de crevettes grises éplûchées main
Kaasgratin Mornay met Sint Jakobsvruchten
Cheesegratin "Mornay" with Scallops
Le Gratin au fromage « Mornay » et Coquilles Saint Jacques
bladerdeegje met spinazie en champignons
Crispy Pie with Mushrooms and Spinach
Feuilleté aux Champignons et Epinards
Gerookte zalm
smoked salmon
Le saumon fumé
Internet promo
MENU ALLES INCLUSIEF : 89.90 € pp
Het 4 gangen keuzemenu
Catalunia Pinot Noir ( sprankelend brut of "Royal")
Aangepaste wijnen
( bij voorgerecht en bij hoofdgerecht )
koffie of tee

Niet alcoholische All - inclusief versie beschikbaar aan zelfde prijs
All in : ENKEL PER VOLLEDIGE TAFEL
MENU TOUT COMPRIS : 89.90 € pp (FR)
Le menu 4 cours au choix
Catalunia Pinot Noir ( Brut pétillant ou "Royal")
Vins adaptées
( avec entrée et avec plat principal )
Café ou Thé

Version non-alcolisée, tout compris, disponible au même prix
Tout compris : UNIQUEMENT SERVI PAR TABLE entière
ALL INCLUSIVE MENU: 89.90 € pp (UK)
The 4 course choicemenu including :
Catalunia Pinot Noir ( Sparkling Brut or "Royal" aperitif )
Adapted wines
( with starter and with main dish )
Coffee or Tea

Non alcoholic All inclusive version available at same price
All-in, AVAILABLE PER FULL TABLE ONLY
Wijnen - Vins - Wines ?
Catalunia Pinot Noir ( Sparkling Brut or "Royal" aperitif )
Chardonnay Côtes Nantaises France (of/or)
Sémillon Bergerac France
Colombard & Viognier Gascogne France (of/or)
Maison Duberny ( Cab-Sauv. + Merlot ) Pays d´Oc France

Al deze wijnen zijn fruitig, jong en zacht
All these wines are fruity, young and smooth