we value real people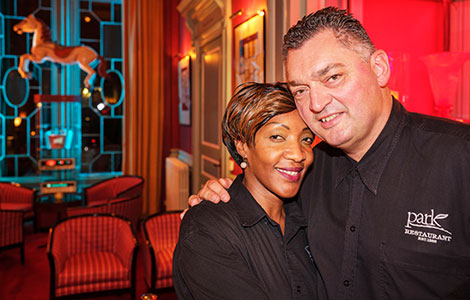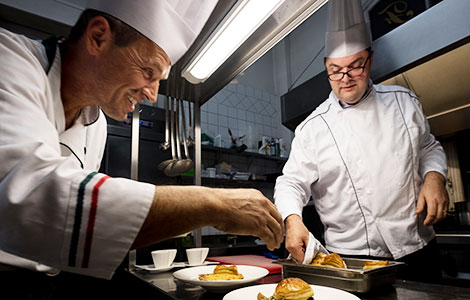 concept
Klassieke keuken
Frédéric Bruggeman, afgestudeerd aan de Hotelschool in Koksijde in 1986, serveert een traditionele keuken van bij ons met producten van de beste kwaliteit. Een zeer smakelijke "recht voor de raap" keuken die geen uitleg nodig heeft. Perfecte Prijs - Kwaliteit.
kwaliteit & service
Axel Bruggeman studeerde af aan de Hotelschool van Vieux Bois in Genève (CH) in 1986. Hij werkte in diverse prestigieuse hotels in binnen- en buitenland. Bijgestaan door een gemotiveerde en jonge "équipe" staat hij garant voor perfecte service en sfeer.
Traditional cuisine
Frédéric Bruggeman studied at the celebrated Hotelschool in Koksijde. He serves traditional, old fashioned dishes, made with only first class ingredients. This "no Nonsense" cuisine is honest, tasty and timeless. Unbeatable value for money.
value & service
Axel went to Hotelschool in Geneva, where he worked and lived for 7 years, before returning to Belgium. An adept of international travel, he has gathered a good knowledge of service worldwide. Aided by a motivated Staff, he strives for perfect service and ambiance.
cuisine de tradition
Frédéric Bruggeman termina ses études à l´école Hôtelière de Koksijde en 1986. Il vous sert une cuisine de Tradition, simple, honnête et éternelle. Cette cuisine nécessite aucune explication. Rapport qualité-prix imbattable dans une ville comme Bruges.
qualité & service
Axel, un ex-élève de l´école Hôtelière de Genève, ou il a vécu et travaillé durant 7 ans, vous garantie un service impeccable et une ambiance comme il se doit. Adepte de voyages à l´étranger, de la moto et de bons vins, il est à la hauteur des exigences de ses clients.